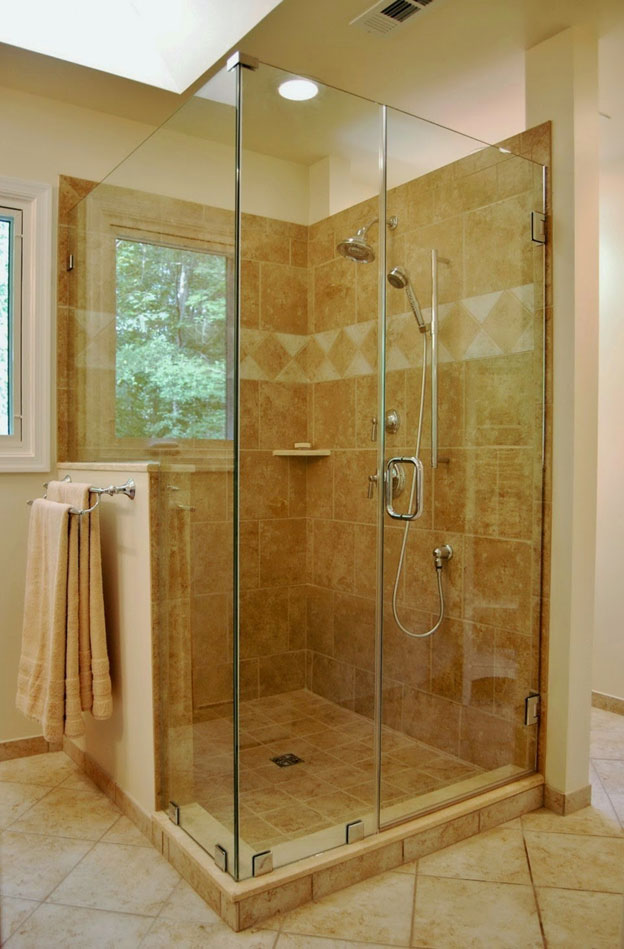 Thanks to glass and hardware technology advancements the average consumer is capable of enjoying a beautiful custom shower enclosure that looks and operates in an elegant manner.  Making your shower a custom glass enclosure completes your bathroom and makes your living space feel clean and powerful.
Differences of a "Frameless" and "Framed" shower door?
Using "heavy glass" measuring a thickness of 3/8 inch or ½ inch held together with small discreet clamps and clear silicone. The hinges are made as small as possible while still large enough to handle the weight of the heavy glass. What you are left with is a mostly clear wall of glass that holds the water in while allowing the light in your bathroom to be spread throughout. Before with metal frames that easily eroded, attracted gunk and hard water build up it didn't take long for even a brand new shower to look ugly and dated. With a frameless glass shower enclosure the cleaning and maintenance are much more manageable all the while creating an undeniably great look.  The layout possibilities are endless allowing us to accommodate any bathroom regardless of obstructions such as toilets, bathtubs and vanity's.  If for some reason a swinging door will not work there are a variety of heavy sliders available as well. The traditional slider with aluminum header, threshold and wall jambs now features frameless 3/8 glass sliding panels.  A more expensive but definitely worth the investment option is a barn door style slider that includes minimal hardware to give the feeling of an all glass enclosure but has the versatility of a sliding glass door.
Things to consider before you purchase a frameless shower door include, is there proper backing material such as wood behind tile in order to mount heavy glass door in to?  What kind of layout am I interested in having and is it possible with my current bathroom design? If you have questions or concerns please feel free to contact us at (206) 338-6080.