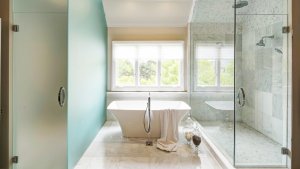 When it comes to the thickness of your custom shower enclosure there are a few different
options that can be applied depending on your budget and the style you are looking for. The
thinnest option would be either 3/16" or ¼" tempered glass, which is usually found with a
frame around it to support the thinner material or can be found semi-frameless in a sliding
shower door system. Downside being the strength of the material, for these are the most likely
shower door to shatter and break due to the fragility of the material. The most common failure
usually occurs in the thinner double bypass shower doors, when they are operated with
something lodge in the track or slammed abruptly. The benefit of going with the thinner glass
would of course be the upfront cost of said shower enclosure, as it could surely save a few
hundred dollars. Next would be the 3/8" glass that you can find in most standard frameless
shower enclosure's these days. The small increase of 1/8" to the glass to 3/8" makes a huge
difference in strength and the ability to sustain damage without being compromised. Most
frameless shower enclosures will be made up of this material. It also is a happy medium
between cost and weight that is applied to your shower door hardware, ensuring a long life
with minimal issues in the foreseeable future. Now if you want to upgrade and splurge on your
new custom shower you can go with ½" glass! This glass is in turn an 1/8" thicker and presents
a more robust and powerful finish to your bathroom remodel. Keep in mind the price will be a
few hundred dollars more than the 3/8" glass but to some that is more than worth it. These are
things to consider when designing and purchasing a custom glass shower enclosure. If you are
located in the greater Puget sound area and would like more information please feel free to
contact us anytime!