In the world of custom shower enclosures there are various options when it comes to designing a shower experience that is truly unique to you. You can pick from multiple finishes to compliment the surrounding hardware that is being utilized in the rest of your bathroom space.  However one aspect that is imperative to consider is the shape of the actual hardware? There tend to be a few more options when it comes to hinges on the door, but for your shower enclosure's clamps that attach the stationary glass to the surround there are two options when it comes to shape. Beveled or square?
The Beveled look is softer than the Square style giving it a more antique and fashionably dated look. It is also nice when it comes to cleaning your shower enclosure, as you don't have to worry about your hands being cut or scraped by sharp edges.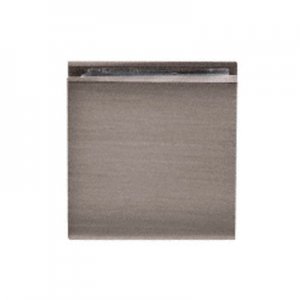 The Square style clamp is becoming more and more popular by providing clients with a sharp modern look. However mentioned above it can be hinder some to clean around as the edges of the metal clamp are sharper and more pronounced.
Deciding what to choose will depend a lot on what other styles of hardware are being used in your bathroom project and what is the overall look you are trying to achieve. Your custom shower enclosure should be considered when designing the overall look of your bathroom, hopefully from the beginning. However most people leave the decisions pertaining to their shower door until the end of a project. The price difference between the two options in minimal considering, with the beveled clamp being a few dollars more. The hinges as well can be beveled or square to match whatever clamps you choose.  There are many things to consider when shopping for a custom shower door enclosure, if you need help and are located in the greater Seattle area please don't hesitate to reach out to us!